New year..
New focus..
New blog..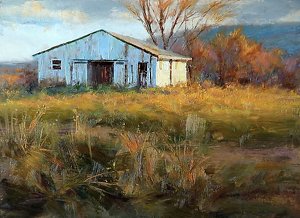 A Kind January, oil, 12X16
Winter Plein air
(Now on exhibit at the McBride Gallery, 215 Main Street, Annapolis, MD.)

For me, January is a time of renewal; a time to take a deep breath, exhale slowly and enjoy this quiet time of year. The holiday madness is over, my daughter has submitted all of her college applications, exhibtion activities have quieted down and it's tme to focus on painting in the studio. If the winter weather remains as fair as it has been then I'm planning on a once a week plein air outing as well as Tuesday night trips to the Zoll Fine Art Studio for evening model sessions.
This year I will be experimenting more with personalizing my brushwork so that my pastel and oil paintings share common characteristics. The gesture of form and textural quality of nature is something I try to capture in my paintings. I've found that larger bristle brushes are wonderful for painting grasses and weathered barns. A large, stiff, long, flat brush helps me to establish the gestural quality of form faster than if I were to use a smaller delicate brush. Painting knives allow me to place a lot of paint on the surface. The edges can be adjusted with a brush. A knife creates a hard edge along a rooftop or assists in laying in a tree trunk, fence or other hardscape form. Trying out different knives, brushes, mediums and surfaces all play an important part in learning to achieve interesting variations with the oil medium. I went through the same process with pastel!
I've also been applying transparent mixtures in combination with thicker paint to create more contrast. Kenn Backhaus, made a very special point of sharing how important it is to achieve contrast within a painting, Not only, light and dark but with each fundemental element of design! It's fun to play!!